If you take payments using a method other than Halaxy's electronic payments system, you can manually mark invoices as paid and record the payment method for your records. This can be done by clicking Mark as Paid on the invoice and selecting the payment method from the drop-down menu.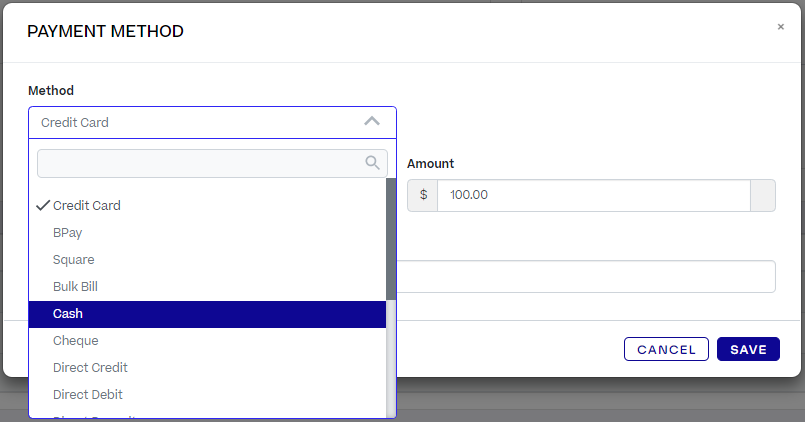 The Offline Payment Settings section in your Payments > Settings page allow you to customise the list of available payment methods that you can use to mark an invoice as paid. You can also filter income reports by payment method to keep track of your finances.
By default, Halaxy has a list of different payment methods you can use to mark an invoice as paid. You can add new payment methods, as well as edit and rearrange the payment methods list, by clicking Payments > Settings and editing your Offline Payment Settings.
To add, edit or rearrange your payment methods:
Click Settings > Payments.

The Edit Payment Methods pop-up appears:

To rearrange the order of payment methods, use the arrows on the right of the pop-up.

To add a payment method, click Add a New Payment Method. The new payment method will appear in the bottom of the list. You can type in the name of the method in the text field:

To remove a payment method from the list, untick the Active checkbox or click the Delete icon to the right of the payment method. You cannot delete the default payment methods (you can only mark them as inactive). Marking a payment method as inactive has the same effect as deleting it.

Click Save when done.